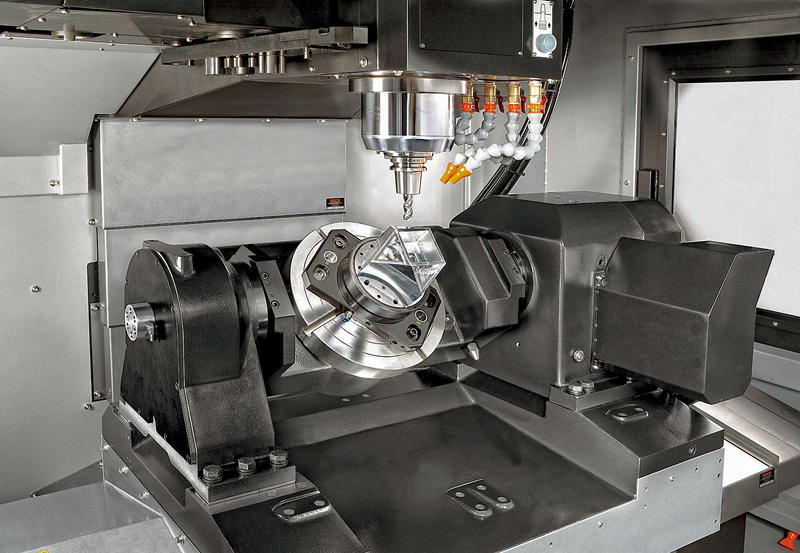 5-Axis CNC machining Services
JY Machinery offers state-of-the-art 5-axis machining services, considerably boosting the range of possibilities for creating parts and intricate surfaces of various shapes and sizes. We are a seasoned five-axis machining company that can give tailored solutions to help you fix one of the most challenging manufacturing difficulties.
Since many components generated call for five-sided machining, five-axis milling and also machining services have high application demands in a vast array of sectors such as the aerospace industry, boat sector, vehicle adjustment industry, and also energy production. The benefits of machining include higher quality surface treatment, positioning accuracy and also short delivery time, while producing substantial benefits for brand-new business possibilities.
Our factory consists of multiple technically sophisticated five-axis Vertical Machining Centers that can carry out high-precision machining and milling of even more complex components. Our five-axis machining service will certainly bring your production procedure to a greater degree and also exceed customer expectations. Request a Quote Now!
What is 5-Axis Machining?
Five-axis machining provides endless feasible part shapes and sizes that you can efficiently take care of. "Five-axis" refers to the number of instructions that the device can relocate, that is, after setting, the device goes on the Y, x, as well as z axis, revolves on the A and also B axes, and approaches the workpiece from any direction. This permits complex and also facility components or get rid of several sides to manage up to 5 side parts in a solitary setup.
This helps develop designers design multi-sided parts with tight tolerances, therefore improving the capability as well as efficiency of the end product without process restrictions.
Simply put, five-axis machining includes making use of CNC to relocate a part or tool along five different axes simultaneously. This makes it feasible to machine very complex components, which is why 5-axis is especially popular in aerospace applications.
5-Axis CNC Machining Video|JY Machinery
Benefits of 5-Axis Machining
Complex shapes can be machined with a single setting for increasing productivity

Much less fixture preparation for saving time and money

Boost manufacturing and cash flow while lowering delivery time

Higher precision grade because the workpiece does not move across multiple workstations

Capacity to make use of much shorter cutting tools for higher speeds as well as much less tool vibration

Accomplish excellent surface finishes and also overall better part high quality

5-Axis Machining Material
We work with a wide range of metal,plastic and composite materials.
Metal materials worked with include Aluminum, Stainless steel, Steel, brass, Copper, titanium and more.

Plastic materials worked with include polyurethane, ABS (weatherable and conductive), acrylic, polycarbonate, polyethylene (HDPE and HMWPE), PTFE, Delrin®, acetal, PVC and more.

Composite Materials worked with include G-10, FR-4, G-11, FR-5, Phenolic Cotton & Paper Laminated and more.
In addition to our stock list, we can provide you with customized raw material as required.
5-Axis Machining Tolerance:
We define a basic dimensional tolerance of +-0.002" for CNC machined components. It is available to accomplish a tighter tolerance from our CNC routing, turning, 5-axis milling as well as 3-axis milling. If you need a tighter tolerance, please call us, as tighter tolerance might enhance the price of your order as well as need to be plainly specified upon getting.
Surface Finishes:
As Machined -Machining marks visible
Smooth Finish -Reduce the surface roughness and can be polished to glossy surface if request
Sandblasting -Cutter marks removed and scratched left behind by sand paper and light texture appearance
Brushing -Polishing the metal with grit resulting in a unidirectional satin finish
Anodizing -Corrosion Prevention and aesthetics
Power coating -Smooth and uniform surfaces and excellent corrosion resistance
Plating -Mirror like hard finish
See more Surface Finishing Capabilities here
Industries that utilizing 5-axis Machining
Five-axis CNC machining is essential in lots of sectors, such as aerospace as well as defense, automobile, energy, commercial equipment, medical, robotics and also R&D. These devices are likewise critical to other making processes. For example, the mold and mildews required for injection molding are CNC machined to guarantee the precision of the molds and shot components.
Aerospace industry
One of the major reasons why five-axis CNC device devices are perfect for the aerospace market is the minimal variety of re-fixation needs. Due to the complexity of a normal aerospace element, a 3- or 4-axis CNC machine device will certainly need numerous re-fixation steps and re-positioning to permit hard-to-reach areas of the reducing head equipment. Aerospace components additionally have natural forms and also substance curves, which is an excellent application for five-axis devices. An example of a substance curve can be discovered in wind turbine blades, generally cast and machined by a five-axis machining center to accomplish the final preferred form and also surface area finish.
Automotive Industry
The auto industry is characterized by high outcome as well as vital consistency demands. From the very first time to the thousandth time, each component needs to be within a certain resistance variety each time. Many components in the transportation market use low-cost, high-volume manufacturing procedures such as stamping, injection molding and spreading. Nevertheless, these rapid as well as economical technologies call for sophisticated and high-precision tools, which is a suitable application for five-axis machining.
Medical industry
Like the aerospace industry, the medical sector has exceptionally stringent needs for high quality. If there are damaging high quality problems, specific medical elements might have a prompt and also straight effect on a person's wellness or survival rate. Some medical parts are processed right into natural shapes from foreign materials for implantation in clients. The five-axis cnc can process these types of materials as well as the organic forms of implants. Along with implants, 5-axis also requires to be utilized in other medical-related applications, such as clinical impellers and also CT scanner components.
Energy Industry
The power sector is the backbone of all various other industries. It is really extensive as well as includes several technologies. From coal-fired power plant to central solar power generation systems, as well as also newer innovations such as combination, there is no end to the demand for advanced parts, these components can break through the limits of design, materials scientific research and also production. Due to these extensive needs, a machining system is required to accurately produce advanced elements, which is what five-axis equipment enters itself. An instance of the sort of complicated elements that shows up in industry is the plasma secured chamber in a star heating system fusion device. The shape of this machine is complicated and also so natural that there is nothing else easy way to produce them except making use of a five-axis equipment.
Industrial sector
The commercial market consists of lots of various other industries not discussed previously, such as durable goods manufacturing, mining, building and construction, and so on. As a result of the large-scale industrial sector, there are numerous complicated elements that require to be produced, of which five-axis equipments are valuable. General-purpose CNC equipment devices inhabit most of the work in this sector, while five-axis machine tools play a complementary function in tool manufacturing, mold and mildew production and unique applications. As modern technology advances in addition to artificial intelligence and also expert system, existing innovations as well as systems will be extra maximized. Although advancements in additive modern technology have actually opened up the manufacturing field to more complicated shapes, the production process is still relatively sluggish. At least for now, absolutely nothing can match the speed as well as flexibility of a five-axis machining service.
Products Show: