3240 Epoxy Fiberglass Machined Products
JY Machinery can meet short lead time requirements for machined plastic parts because of excellent material supplier relationships, sensible inventories, a fast quote process and a commitment to our customers.We are able to supply small and large quantities of sheets, rods, tubes (round/square/rectangular), angles, and custom fabricated parts. Our wide range of composites make it easy for us to designate the best fit for your composite insulation or bearing requirements.
Specifications
Thickness:0.1mm-150mm
Size: 1020x1220mm, 1220x2440mm,1020x2040mm
Payment terms: T/T or L/C in sight
Delivery port: Ningbo ,shanghai.
Pacage: wooden pallet or according to customer requirements.
Delivery time:10-15 days.
Temperature grade: B(130°C)

The difference between a 3240 epoxy board and an FR4 epoxy board?
Epoxy plate is produced by domestic common materials, we can call it 3240 epoxy plate, while the epoxy plate produced by foreign production materials can be called imported insulating plate, also known as FR4 epoxy plate.But they are very different in physical or chemical properties.Now, I will briefly introduce to you:
1. 3240 epoxy plate.General name: 3240 epoxy phenolic fiberglass cloth laminate.The adhesive used is epoxy resin, with phenolic resin as the curing agent.High temperature resistance is usually 155 degrees.It has good machinability, also very suitable for transformers and transformer oil.Density generally does not exceed the national standard: 1.9.But now many Chinese manufacturers have added fillers such as talcum powder to save costs in the manufacturing process.Its density has increased greatly.But it also greatly reduces its electrical performance, can only be used in general insulation engineering.
2. FR4 epoxy plate.It also USES epoxy glue.However, it does not use phenolic resin as a curing agent.It is completely cured at high temperatures, usually 180 degrees or higher.Processability is very strong.For example, we've done experiments in the past where we cut FR4 with a cutting machine, and the cutting machine produces sparks.Its processing properties can be seen.And use will not crack, layering.Very strong electrical performance, suitable for electronic circuit boards and copper - clad laminate.The substrates are also electronic muslin, fiber cloth.Its total density is 1.85, with good chemical resistance.

Product Show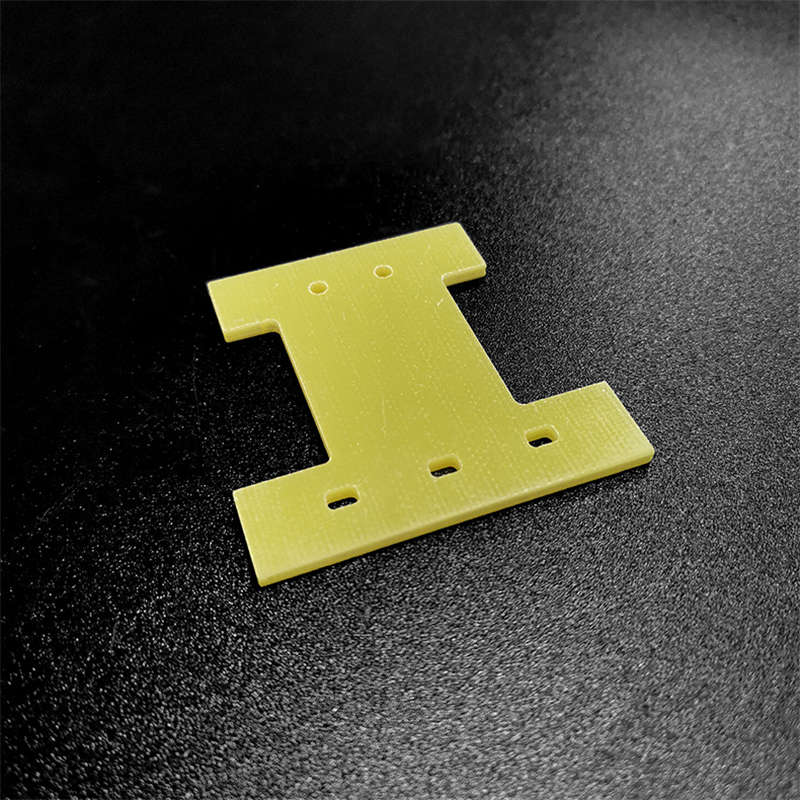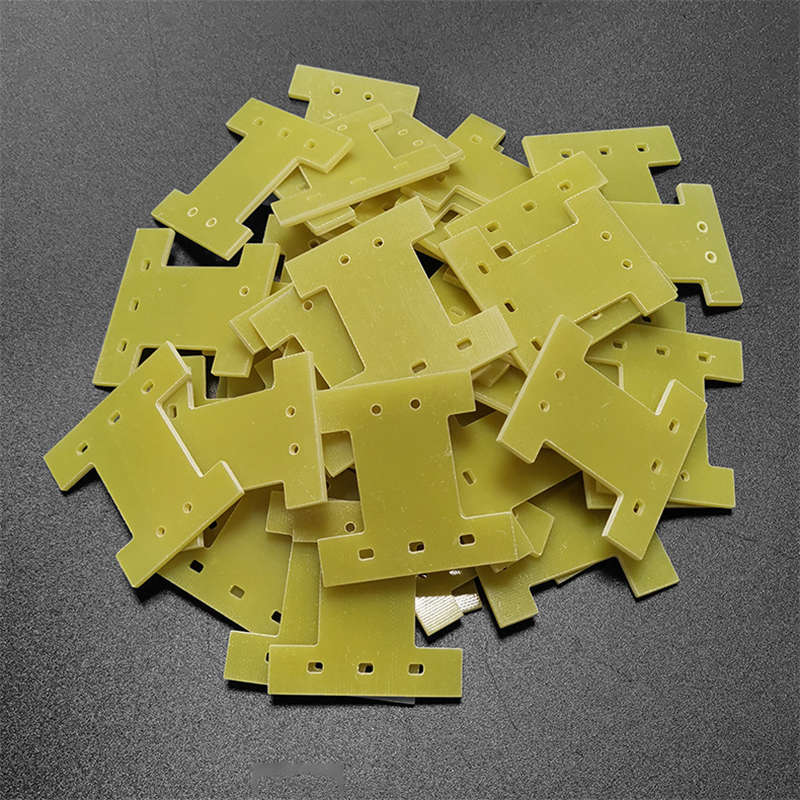 Product Parameters
Item

Value

Specific gravity

g/cm³

1.70~1.90

Class of material to IEC-publ 85 class "F"

ºC

155

Flexural strength min

Lengthwise

Mpa 343.2

Crosswise

Mpa 284.4

Tensile strength min

Lengthwise

Mpa 294.2

Crosswise

Mpa 215.6

Impact strength min

Crosswise

Lengthwise

KJ/m² 147.1

KJ/m² 98.1

Surface strength min

Under normal condition

After immersion in water

Ohms

Ω 1 x 1013

Ω 1 x 1011

Volume resistivity min

Under normal condition

After immersion in water

Ohms cm

Ω cm 1 x 1013

Ω cm 1 x 1011




Insulation resistance parallel




Under normal condition

After immersion in water

Ohms

Ω 1 x 1010

Ω 1 x 108

Dielectric loss Max

50Hz

Kv/mm 0.05

Breakdown strength

Perpendicular to laminations

(at 90 ± 2ºC in transformer oil)

min

Thickness 0.5~1mm

Kv/mm 22.0

Thickness 0.5~1mm

Kv/mm 20.0

Thickness 0.5~1mm

Kv/mm 18.0

Sheet with thickness more than 3mm shall be machined up to 3mm from one side

Kv/mm 18.0




Breakdown voltage parallel to laminations

(at 90 ± 2ºC in transformer oil)




min

Kv

30.0

Product Features
*High mechanical & electrical strength
*Excellent rigidity & dimensional stability
*Good dielectric properties
*Low water absorption
*Maximum operating temperature up to 200 degree Celsius (Type: G-11)
*Flame resistance (Type: FR-4)
*Tighter thickness tolerance
*Flat and straight panel
*Smooth and clean surface.
*Easy to machine
Main Insulation Product Categories
• Epoxy Glass Fiber cloth laminated sheet(3240/FR-4/G-10/FR-5/G-11)
• Phenolic laminated sheet
• Polyester Laminated sheets(GPO-3/UPGM 205)
• SMC/BMC/DMC Molded Parts
• Insulation Rods&Tubes
• Pultruded Profiles
• Engineering Plastics Parts
G10/FR4 Parts Applications
The characteristics of the G10 / FR4 make it ideal for complex, high-precision electrical insulator projects.Electrical insulators limit the flow of current and provide protection for anyone who comes into contact with them,while ensuring the integrity of the circuit and the structural integrity of the product.
Some of the many products that use G10 / FR4 materials include:
Lighting equipment and other switches

Timers, transformers and other electrical controls

Arc barrier

Terminal boards

Washers

Sleeves

Structural components
And more.For information on whether G10 / FR4 is suitable for your project, please contact us and speak directly to one of our engineers.