FR4 G10 G11 Epoxy Resin Fiberglass Rods
The FR4 G10 G11 epoxy glass fabric laminated rods is made from glass cloth fabric impregnated with epoxy resin, then heated into prepreg and rolling into the rod shape, finally put into the different diameters molds, under high temperature and pressure to cure into the rigid laminated rods.
Appearance: the surface should be smooth, without bubble, greasy dirt, and impurity. Heterogeneity of color, scratch, slight unevenness not hindering its use are permitted. Cracks, not hindering use, on top surface or section for the rod with diameters more than 25mm are permitted.
Applications: FR4 G10 G11 epoxy glass fiber rod is widely used as high and low voltage transformer accessories, electronic and electrical insulation parts, water conservancy and hydroelectric insulation parts, switch cabinet insulation parts, inverter insulation parts, industrial electric furnace insulation parts, semiconductor insulation parts, electrified railway insulation parts, shipbuilding insulation parts, nuclear power insulation parts, bus duct Insulating spacer gasket.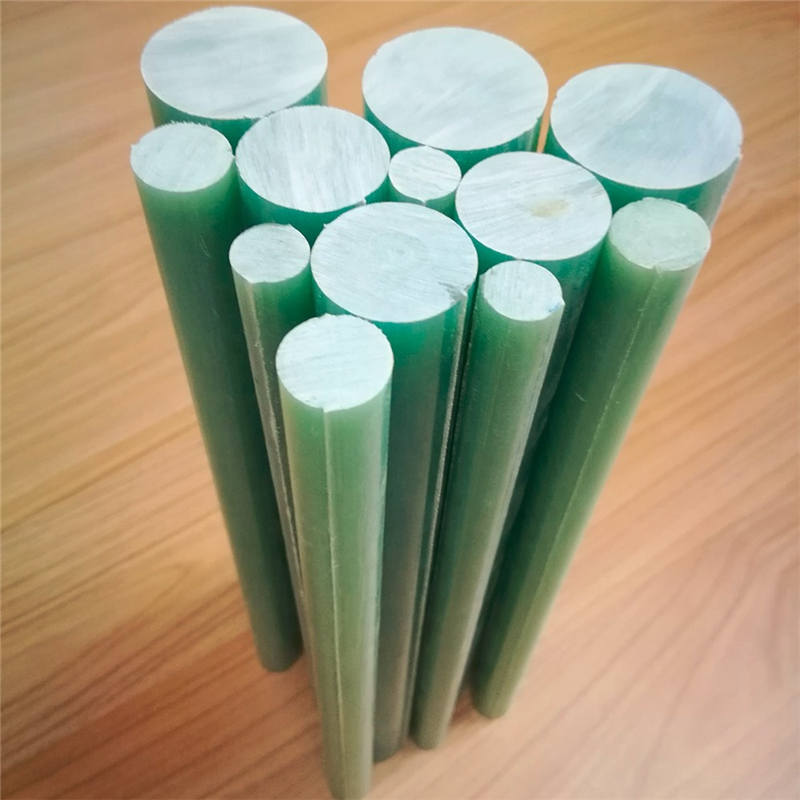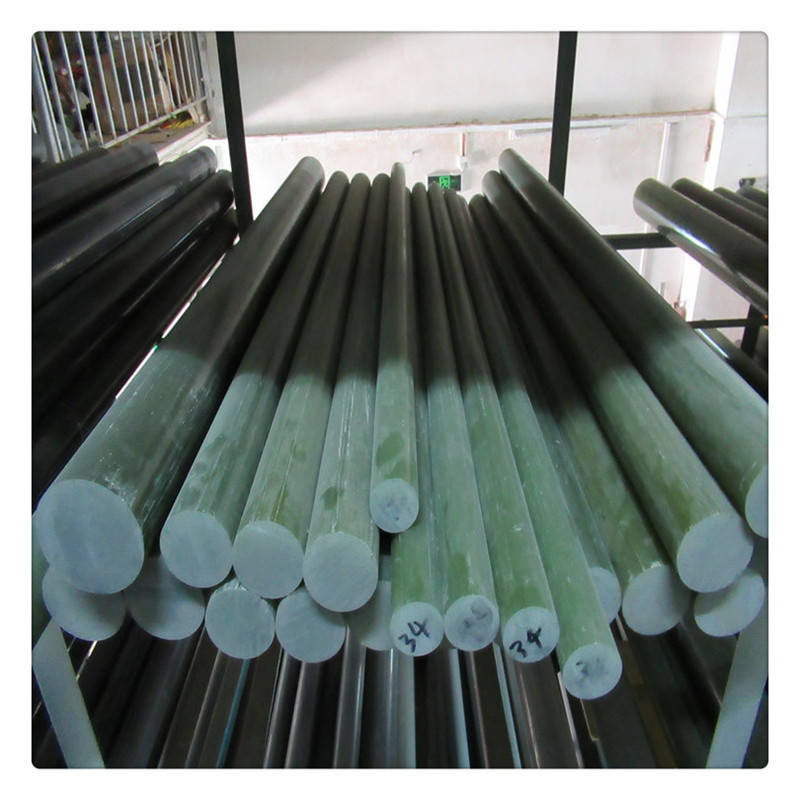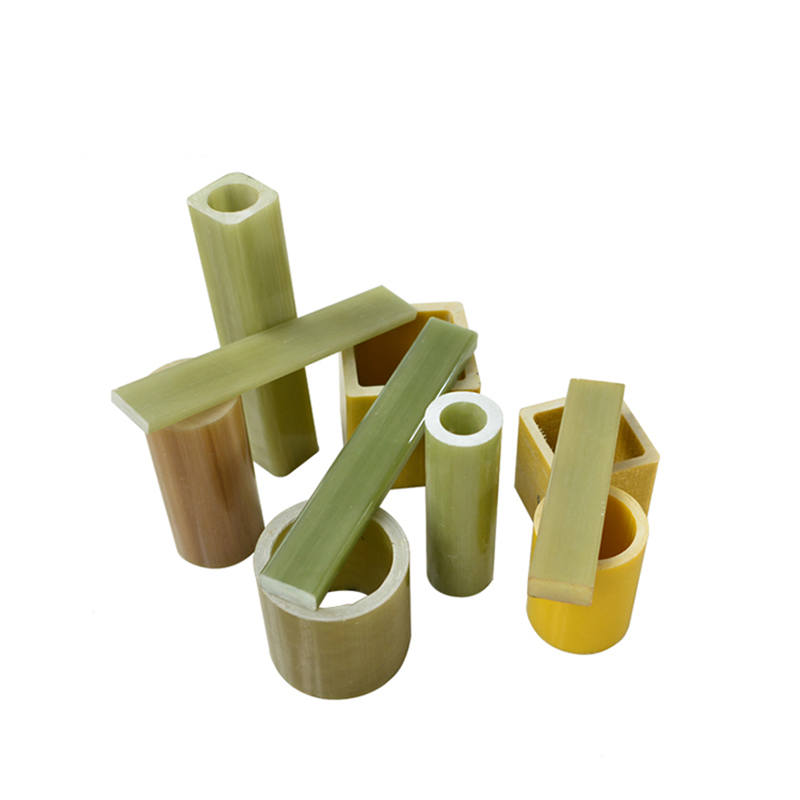 FR4 G10 G11 Epoxy Fiber Glass Rods Properties:
Item

Test method

Unit

Values

Physical properties

color

----

///

density

IEC 60893-2 8.1

g/cm3

1.85-2.00

water absorption

IEC 60893-2 8.2

%

≤ 0.5

Mechanical properties

Tensile strength

IEC 60893-2 5.7

Mpa

≥400

Flexural Strength(perpendicular)

IEC 60893-2 5.1

≥650

Compressive strength

parallel

IEC 60893-2 5.3

≥ 290

perpendicular

≥200

Shearing strength

IEC 60893-2 5.6

≥ 89.7

Impact strength(Charpy)

IEC 60893-2 5.5

Kj/m2

≥ 475

Electrical properties

Volume Resistivity

IEC 60089

Ω·m

≥1.0 x 1012

Surface Resistivity

Ω

≥ 1.0×1014

Electric strength perpendicular to lamination (90℃ in oil)

IEC 60893-2 6.1.2

kV/mm

≥ 10.0

Breakdown Voltage parallel to lamination

KV

≥ 45

Arc Resistance

IEC 61621:1997

Sec.

≥ 180

Thermal properties

Coefficient of Thermal Expansion

ASTME 228-11

1/K

≤2×10-5

coefficient of heat conduction

GB/T 10297-1998

W/(m2×K)

≤10.79
FAQ:
Q:What is epoxy?
A:Epoxy resin is a kind of resin glue, it belongs to chemical products. More is given priority to with a gel, it's a two-component, after adding 30% ammonia kind of curing agent, usually within 24 hours to curing molding, epoxy resin and glass fiber reinforced materials such as composite, often can get satisfactory design strength, such as some common carbon fiber car parts, are all based on epoxy resin as matrix resin.The properties of the composite products are closely related to the resin and the reinforced species and the content, and also to the specific molding process.

Q:What is the difference between g10 and fr4?
A:G10 FR4 laminate grades are produced by inserting continuous glass woven fabric impregnated with an epoxy resin binder while forming the sheet under high pressure.G10 and FR4 have extremely high mechanical strength, good dielectric loss properties, both wet and dry. The main difference between NEMA Grades G10 and FR4 is that FR4 is a fire retardant grade of G10. Therefore, FR4 may be substituted where G10 is called out except in applications where halogens are not desired. G10 can never be substituted where FR4 is called for.
Q:What does fr4 mean?
A:FR4 material is a rigid insulation material made of imported alkali free glass fiber cloth impregnated with imported epoxy resin and added with flame retardant and adhesive.
Q:What is the difference between FR4 and 3240?
A:Raw materials resin and glass cloth are different.The mechanical strength and electrical properties of FR4 are higher than 3240, and FR4 has V0 flame retardancy.The price of 3240 will be cheaper and the density will be a little bit higher, the performance will be a little bit worse.
Q:Is g10 waterproof?
A:G10 material has water resistance, but still has a trace proportion of water absorption, NEMA grade G10 water absorption ratio is less than 0.5%
More Machined Parts:

Epoxy Fiberglass Laminated Sheet Epoxy Fiberglass Machined Parts FR4 G10 Machined Parts

Machining Bakelite Parts Machining Phenolic Parts Machining GPO-3 Parts
Contact us:
JY Machinery Provides one-stop service from raw material sheet/tube/rod supply to customized further processing of nonmetal insulating parts.We can develop and produce various high standards and personalized products according to customers' requirement.Excellent customer service, fair pricing, and quick turnaround times.Get a quote today!